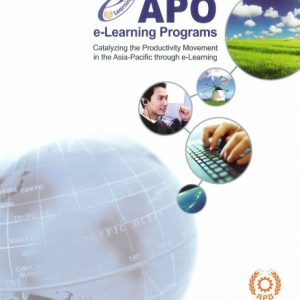 The Asian Productivity Organization (APO) is implementing Self-learning E-courses with the objective of providing basic understanding of fundamental productivity concepts, principles, and tools.
The structured self-learning e-courses are implemented through the APO's dedicated e-learning website: http://eapo-tokyo.org/. The participants can register on this website and create their own accounts.
As the National Productivity Organization, the Development Academy of the Philippines (DAP) is in charge of the coordination and promotion of the program at the local level. The DAP invites the public to register and participate in these FREE learning opportunity.
Successful participants who pass the final exams will earn an e-Certificate courtesy of the Asian Productivity Organization (APO), and an opportunity to be invited to participate in follow-up face-to-face trainings in any of the 18 APO member countries co-sponsored by the APO (subject to qualification requirements and standards of the project).
For more information, please refer to the course brochures or contact the APO/DAP Secretariat at Tel. No. 631-2126, or e-mail at [email protected] or [email protected]. Attn. Mr. Michael Del Mundo or Ms. Bonna Frias.
Other details can also be found at these websites: www.apo-tokyo.org  (APO); www.apogranteesforum.wordpress.com;
Note: Participants from non-APO member countries are welcome to take the course, but will not be provided certificate.
Self-Learning Courses: